Ross Rader
Ross has been with Tucows virtually from the beginning. He was the Director of Marketing at Canada's largest independent Internet Service Provider, Internet Direct. When Internet Direct acquired Tucows, Ross managed the implementation of OpenSRS. He became the Director Research and Innovation in 2001 with the responsibity to explore new lines of business and opportunities for Tucows' channel of wholesale providers.
Ross has published articles on software, domain name registation and domain name policies and spoken at numerous industry events. He was educated at the University of Winnipeg.
Posted by
Ross
Comments: 1
I've received the odd mention in the press – usually some obscure point about an irrelevant Internet governance or technical policy issue. I never expected to get any attention from the hardcore IT press for anything of technical substance – good, bad or otherwise. Having recently assumed responsibility for managing the retail aspects of the Mailbank business portfolio, I guess all bets are off now…
Based on messages being sent out from Tucows, the migration process has hit several speedbumps.
- via ITworld.com.
Joel Shore, the author of the article, goes on to nail the source of of our problems square on the head. My planning process was rushed, which lead to corner cutting, which lead to mistakes and problems and a decreased focus on getting the quality equation just right. This lead to avoidable mea culpa's on the retail network status page and our customer bulletins – which eventually lead to Joel's article.
The good news is that the fixes are well underway and ahead of schedule. The bad news is that we could have used the time spent fixing these issues on more productive activities – not to mention completely avoided invoking the wrath of our customers and Joel's unflattering attention.
Take the time to dot your i's and cross your t's. Your customers will thank you for it.
For some more detail on the issues we've run ourselves into, you can check out our customer blog where I'll be posting some more information the steps we're taking to improve our quality control processes over the coming days.
(speaking of QA, when I clicked on the link on the ITworld website to send a copy of the article to the folks here at Tucows, here's the response I got from their webserver

 – click the thumbnail for a full view)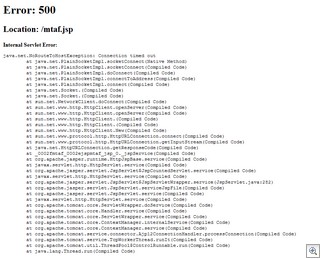 (originally posted at http://www.byte.org/blog/_archives/2006/9/27/2367434.html)
Tralliance, the good folks that brought you .TRAVEL, are looking to implement something they are calling "search.travel" in the .TRAVEL TLD. 
ICANN Opens Public Comment Period on the Tralliance Proposed New Registry Service
– via ICANN.
ICANN's own Security and Stability Advisory Committee, SSAC, is saying that they don't find any material difference between this proposal and Verisign's Sitefinder implementation.
Bret Fausett has some thoughts about this on his blog as well.
In the spirit of getting involved, it would be great if you took the time to let ICANN know what you think of this proposal and took part in their public comment process.
I really find the whole Net Neutrality debate somewhat disheartening. There are two sides to this debate, one rooted in the realities of the way the internet works, and one rooted in trying to "optimize" the internet to the advantage of a very specific set of applications (video and voice traffic) offered by a very few providers (primarily large network operators). Unfortunately, one of these sides seems to have gained the rhetorical upper hand and seems to be controlling the current tone and tenor of the discussions.
A nationwide survey of 800 registered voters is being touted by the Senate Committee on Commerce, Science and Transportation because it purports to show that Americans are not interested in net neutrality legislation.
– via Ars Technica
 Of course internet users aren't interested in net neutrality legislation – most internet users don't have a clue of how the internet works, ought to work and was designed to work.
I personally don't have an issue with whether or not you want to apply QOS or traffic shaping to your packets, but please, leave mine along. The internet is not a cohesive thing, it is a series of interconnection agreements between various independently operated networks and a series of technical protocols outlining how those interconnects should happen for maximum interoperability. Just because you might own the wires, doesn't mean that you own the bits.
My biggest problem with the entire situation is that it is largely an artifact of bad regulation. In my opinion, the FCC and CRTC aren't doing anyone any favors with their 3rd party access and hi-speed internet regulatory policies. Competition between a small number of players with very large market share isn't competition. Competition between DSL and Cable isn't competition. True competition can only happen in the absence of over-reaching regulation. Which can't happen in an environment where the very large players have had the benefit of regulatory protection for far too many years.
The regulators need to get off the pot with this one. We must demand that either strong legislation that protects the internet is enacted, or we must demand that protectionist regulation is dismantled to ensure that everyone has a chance to benefit from the unique opportunities that the internet has to offer.
Mark Jeftovic of
EasyDNS
makes some great points about the
CIRA Board of Directors election
currently underway. CIRA is the organization responsible for running the registry and managing the policy for the dotCA ccTLD.

During my 3-year tenure on the CIRA Board, I got the opportunity to travel across the country. Whenever we held a public forum anywhere in Canada, the turnout was usually quite high and the participants informed and enthusiastic.


Then near the end of every open forum I made it a habit to ask the attendees the following question: "How many people here voted in the last election?" and the silence was usually deafening. Less than 10 hands would go up every time, guaranteed.


So why the disconnect between getting live bodies out to an actual event and getting stakeholders to click a few buttons through their web browser?
– via Mark Jeftovic
Historically, a very small number of people were responsible for casting the votes for the candidates that get elected to the CIRA Board - less than 1000 votes were necessary to get elected in past elections. This really needs to change - the bar should be much higher, which means more members need to get involved.
I'm actually a candidate in this election and if you are a CIRA member, I'd really appreciate it if a) you would get involved in this election, and b) support my candidacy by casting a vote in my favor.
I'm going to resist the temptation to turn this blog post into a shameless self-promotion, so if you are interested in my "platform", you can read more here, here and here. If you have any questions about how to cast a vote or about specific issues raised by my platform, please be sure to drop me a line!